"We set realistic customer expectations with our clients and then not just meet them, but exceed them. We successfully solve problems by listening closely to our clients."
– Daniel Sobb Director of Operations
Daniel is the Director of Operations for Vital Hospitality Group and has been at the forefront of the business for over 17 years.
Daniel is responsible for the strategic direction and financial performance of Vital Hospitality Group and promotes its core values to ensure that close working relationships are developed and client expectations are exceeded.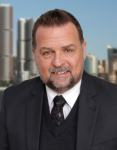 By partnering with Vital, you enhance your internal security resources with our team of specialists. Our partnership approach delivers you peace of mind, evidenced by our comprehensive licensed venues and registered clubs portfolio, consisting of assets that have recently been won, as well as assets long held.
We react swiftly to changing circumstances and adapt our services to respond to each one of our clients' needs. You'll get to know our faces, and you'll be speaking to the person who can make the decisions to benefit your business.
Our transition plan sets out in principal how we intend to commence the delivery of our services to ensure a smooth and professional transition from your current service arrangements. Most importantly, our plan focuses on continuity, providing for a seamless transition, which is professionally managed and staged.
Review, analyse and make recommendations for each stage of the service lifecycle (strategy, design, transition and operation)
Looking for any more information?