We are one of the largest licenced security providers on the east coast of Australia with over 25 years of experience in the hotels and registered club industries. We assist our customers with a client-focused approach and genuine results.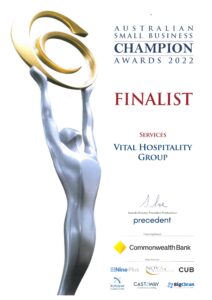 2022 Australian Small Business Champion Finalist
Repeat finalists in the Australian Small Business Champion Awards.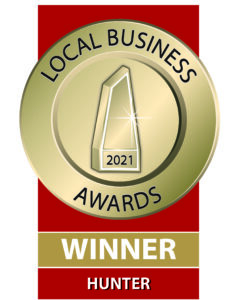 2021 Local Business Awards Winners
Vital Hospitality Group is proud to be a winner in the 2021 Local Business Awards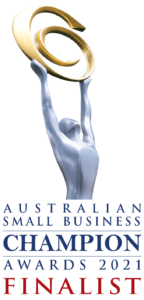 Australian Small Business Champion Awards Finalist
Vital Hospitality Group is proud to be a finalist in the 2021 awards.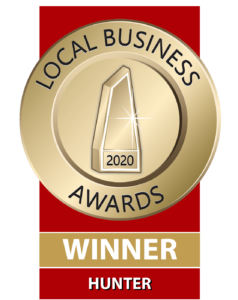 2020 Local Business Awards Winner
Vital Hospitality Group is proud to be a winner in the 2020 Local Business Awards
Agile, Innovative and a Customer Focused Approach
We understand very clearly the gravity and importance of choosing the right security provider, a provider whose priority will remain to be the day to day service, guest experience and efficient use of the security detail. In order to achieve each milestone and ultimately to achieve the end goal, our approach will centre around strong customer relationships, flexibility and a boutique approach, backed by a national framework and structure and it's all about people training.
We are driven by creating experiences for you and your customers, whilst ensuring a safe & efficient workplace
What our clients have to say
Crowne Plaza Terrigal Pacific has had a partnership with Vital going on 3 years. This particular property is a unique one with a 1300 capacity live music venue housed in its 5 star hotel. Vital Hospitality have been able to work along side our team to ensure a service that matches the demands of two very different guest demographics. This fantastic working relationship has been forged through an informal and personal approach. Its the people and their investment in our relationship that ensures my needs as an operator are exceeded
Vital provides a full range of high quality security services to many national private, corporate, retail, government and sporting organisations. Our Service is supported by a 24×7 Operations Centre and a team of dedicated and passionate individuals who care about you.
Vital provides extensive manpower – Security staff, event staff, traffic and event management for numerous sporting venues, stadiums, entertainment centres,  local council events, festivals, roadshows, conferences and more. With a professional approach and a keen eye for detail, Vital can help you run your event as efficiently as possible. 
We provide licenced premises and registered clubs with ongoing security, hospitality and managerial support. Our team can assist your venue with RSA management, crowd control and asset protection. We have the manpower and knowledge to help you. 
Vital provides leading edge electronic security solutions tailored to your customer requirements. We offer access control, intruder alarm systems, CCTV systems and structured cabling networks. 
Vital conducts regular internal on going training for all staff with regular training toolbox talks.
We provide personal protective services for executives, dignitaries and officials. Our team is experienced, professional and provides a personalised service. 
Vital provides a range of asset protection services. We have mobile patrol services that can inspect your premises to ensure they are safe. Our monitoring centre keeps track of your premises for peace of mind. 
We offer a range of loss prevention services to help you reduce incidents of theft and to provide ongoing relationships with your customers. Whether the loss is occurring internally or externally, know that Vital will help you eliminate potential losses. 
Vital provides local businesses and events with extensive manpower to assist at events, festivals, roadshows, conferences and more. With a professional approach and a keen eye for detail, Vital can help you run your event as efficiently as possible. 
What our clients have to say
As a long standing client of Vital Hospitality Group, it is a pleasure to write a reference in relation to their services. As a service provider, our Club has always found Vital Hospitality Group to be professional in the management of their services, delivering a high quality service under some difficult circumstances at times. They are customer focussed and they have a proactive approach towards all services provided to our Club, which is extremely important. When incidents do occur, we have found the communication from their Director of Operations Daniel Sobb, through to their frontline guards to be excellent. Our Club is kept up to date with daily reports detailing any concerns for our facilities, members and staff. We certainly have no hesitation in recommending Vital Hospitality Group to other venues and event holders that may require their expertise.
From start to finish, we take your vision and turn it into reality
We Focus
Our total focus is on serving our clients.  We strive for a win-win in each relationship – our clients get the services they request and we do this so well, that we have another client who will provide a reference for us to any company that seeks their views on the services we provide to you
We Plan
We Deliver
We Adapt
We Comply
We Care
What our clients have to say
Newcastle Rugby League has been a client of Vital Hospitality Group for over 15 years utilising their services for our finals series and grand final plus numerous other special events. These events can attract in excess of 10,000 people therefore an effective relationship with our security provider is critical to ensuring that the our events are not only successful but provide a safe environment for our participants and supporters. Vital Hospitality Group continually delivers on these requirements which is demonstrated by the length of our working relationship. During my 7 years as CEO of Newcastle Rugby League I have worked directly with Director of Operations Daniel Sobb and his management team and I have always been impressed with their professionalism, efficiency and in particular their ability to adapt to our requests to amend arrangements due to unforeseen circumstances. Newcastle Rugby League looks forward to continuing our partnership with Vital Hospitality Group and can highly recommend their services to any other organisation.
Vital is a rapidly growing local company that is credible and capable. Our approach is based on a high standard of service with over 25 years of experience. We offer job perks including discounted Balance Gym Memberships. If you feel you have what it takes to be apart of the Vital team, please apply below.  
What our clients have to say
I first encountered Vital in 2006. At that time they were just starting. I have found Vital responsive and eager to help running my hotel. Daniel Sobb has a lot of knowledge from small events to big. I started St Patricks Day in Newcastle in 1994, and hold St Patricks Day in Newcastle every year, and have to deal with large crowds! Vital is who helps me! A professional team.